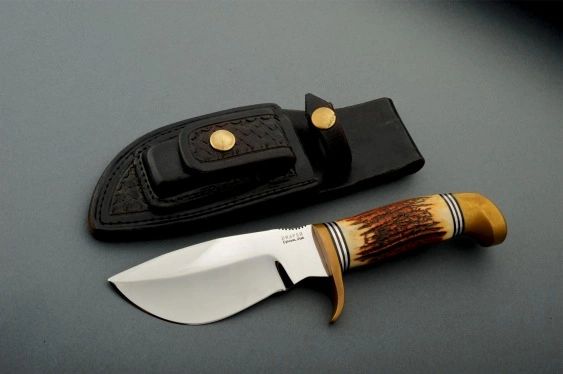 Trophy Skinner Model No. 7:   5" blade from 3/8" 440-C, It doesn't get much better than this!  My personal favorite.  Rare++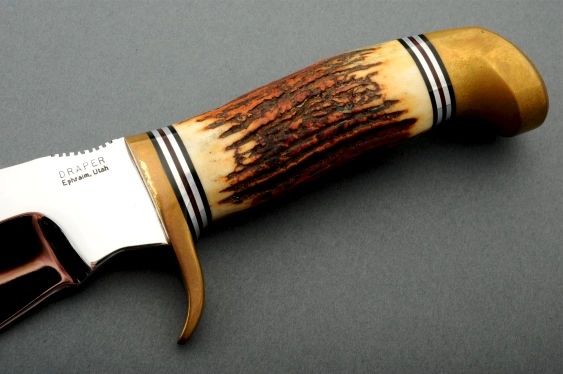 Close-up of handle material and nice patina on guard (reversed for finger control during skinning) and large pommel.  Classic design beyond compare.
Model No. 27 THUNDERBIRD; Close-up of pommel.
More THUNDERBIRDS, considered collector knives in the '60's.  The one on the left was produced by Kent Draper.
A Trio of THUNDERBIRDS.  Notice the short one has brass fittings and has a DRAPER BOWIE blade.
A "SCHOOL" of Draper Knives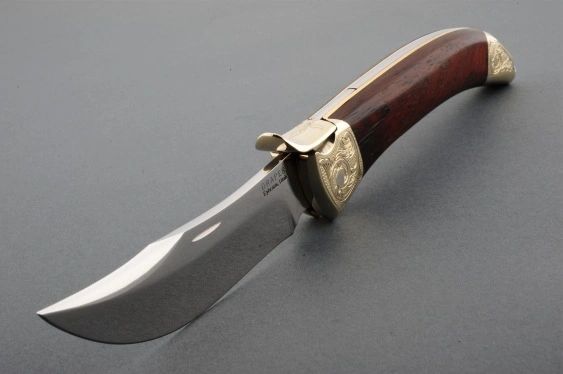 Custom Folder (magnum-type) very rare:  This is a large folder, probably one of a kind. 
Blade:  4 1/2" long.  Overall length is 10 3/4".  Nickel silver bolsters.  Operates smooth as silk.  This knife is also the very knife photographed in the Custom "Thunderbird" Brochure.
Here it is compared to a Buster Warenski engraved Cougar Folder.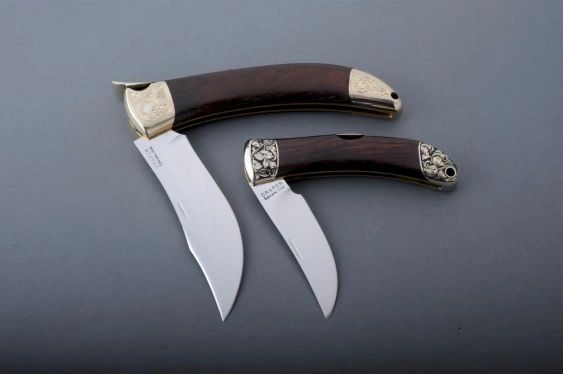 Both of these knives were created by Harvey.
The bottom knife has much history and a bit of speculation goes a long way, however, here is what I do know about this knife.  It was constructed by Harvey, engraved by Buster Warenski, owned by a famous Japanese collector then brought back to the U.S. market, cleaned up by Julie Warenski and additional engraving added by Julie; the words "B. WARENSKI ENG."  
     There is a lot more to the story; after closeup inspection with a 8X loupe I discovered the original engravers mark literally scratched into the rear bolster.  So, the knife now has two engravers marks, one by Julie (Busters' widow), and the original by Buster; although, this has never been verified to be Buster's actual mark, I believe it to be simply because no one I know ever knew it existed.  It is super tiny and almost invisible.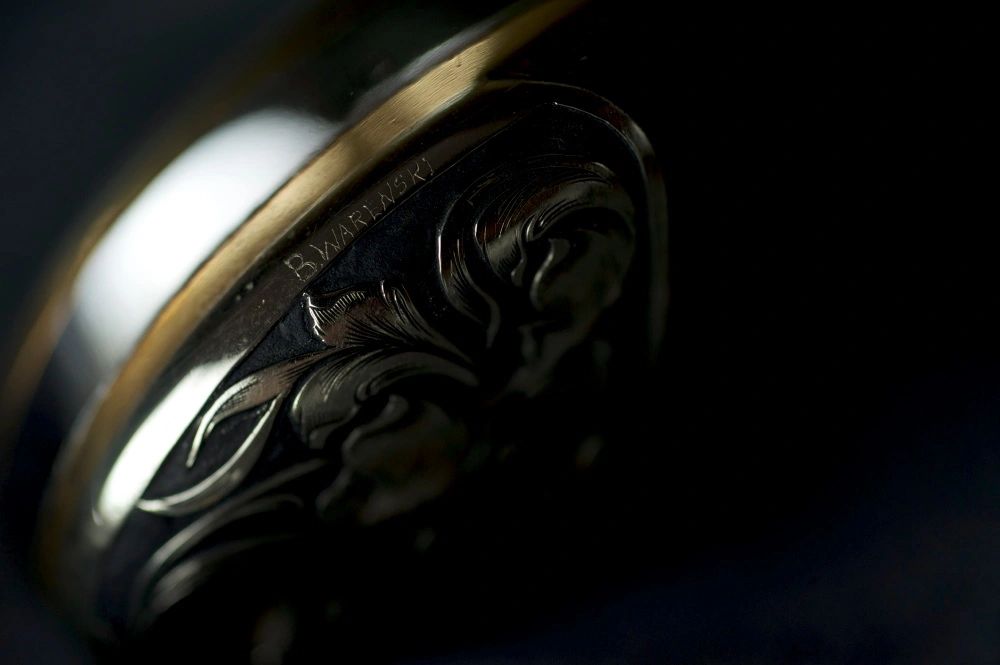 Here is a macro photograph of the original mark (by Buster).  Harsh sidelight and super closeup photo techniques have made it obvious.  In the hand, however, you can barely see either mark, this one is virtually invisible.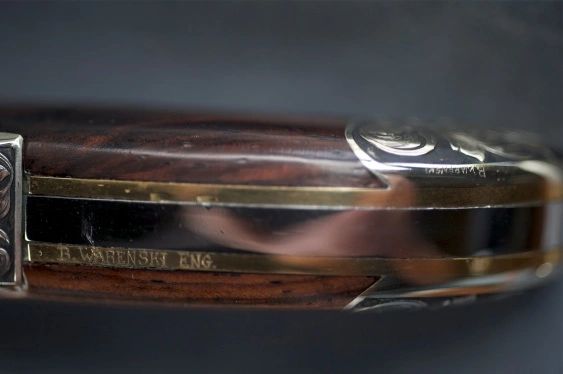 Here is the "B. WARENSKI ENG." above, (added by Julie Warenski) around March of 2010?  Notice the original mark, upper right of photo, on bolster, it reads "B.WARENSKI" (1970's) and although it appears obvious in this photograph I have enhanced it with lighting techniques to reveal its location.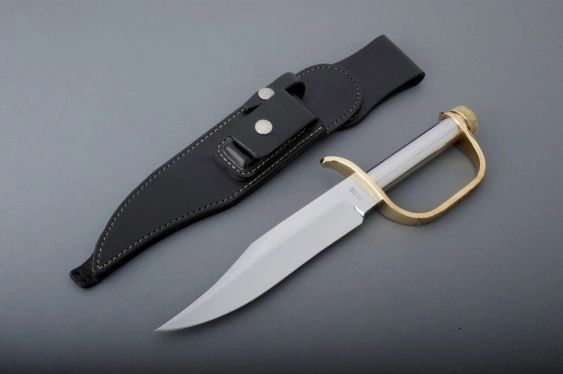 Model No. 16 J.W.W. III SURVIVAL:  Designed by John W. Wells  III, Lt. U.S. Army Rangers.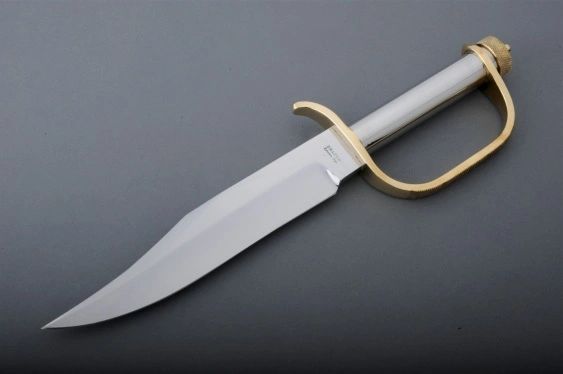 Very few of these made and extremely rare.  This one is mint+.
The 1" stainless steel tube handle was hollow and water tight.  You could also wrap the handle with wire (for snares or repair) and/or cordage.
The knurled knob would unscrew for access to matches, fish hooks, line or whatever you filled it up with.  Incredible knife.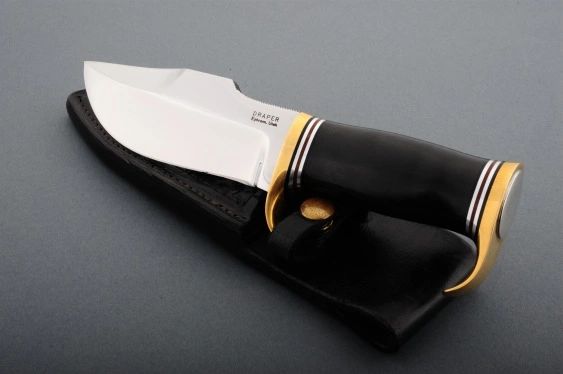 Elmer Keith Knife Model No. 1:  5" Blade from 3/8" 440c.  Authentic Keith design.  Double brass bolsters were designed for cold weather, whereas, the flexing of cold fingers (to help warm and/or un-cramp them) one wouldn't drop the knife.  German Silver butt cap.
Elmer Keith Model No. 1 was one of the more complicated blades to grind.  Hand filed thumb rest, bone splitting chisel point (clip was sharpened on one side only), and a nice wide plateau on blade's spine for hitting with removed animal leg (used as hammer) to drive blade through game animals' brisket.  Much thought went into the design of this knife.
Another Elmer Keith Model No. 1 with deep notches in thumb rest and wood handle.
Here is one with stacked leather handle.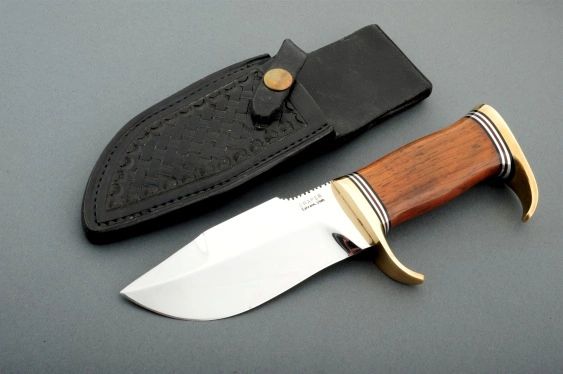 One more with one of my favorite spacer color combinations; black, silver, red, silver, black.
This is a 6" Keith Knife minus the curved and extended bolstes
This Keith Knife was special order, smaller handle, 1/4" stock instead of the standard 3/8" and one really nice sheath.
The extra leather added an extra measure of protection and security.
Jungle Bowie Model No. 18  Blade 3/8" 440c stock.  Type 303 Stainless "S" Guard and Pommel. Black Linen micarta handle with deep finger grooves.  Swivel sheath produced in Hal Hansen's leather shop by S. R. Johnson.  Knife made by S. R. Johnson while working in Harvey's shop, 1968.
Jungle Bowie has 10" Blade and is 15 1/4" OAL.  Knife was made in '68 by S. R. Johnson, pommel was shaped by Harvey (the master of this design).  Aluminum and black paper micarta spacers in handle.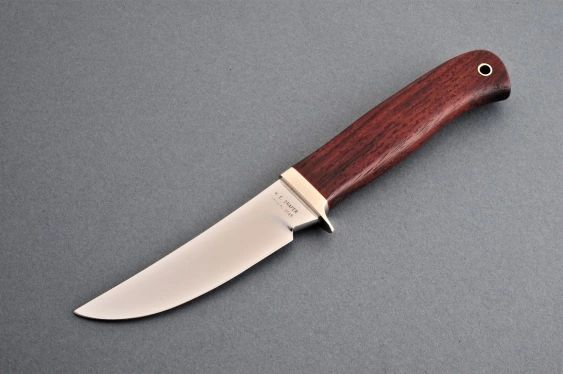 Here is an unusual knife, also by, S. R. Johnson.  It has two blade stamps, H. E. Draper, Ephraim, Utah on this side and.....
S. R. Johnson, Manti, Utah on the other side.  The knife has some very interesting history, here is the rest of the story from S. R. Johnson.
Dear Mr. Murri;
This letter is to verify that the little "Cougar," model knife, which you have just recently purchased, was made by me in two different stages; during the years of approximately 1968-69 and then finished in about 2000.  This knife is of narrow tang construction, has a nickel silver guard and rosewood handle, which includes the thin red spacer.  Markings on this knife include the stamp reading, "H. E. DRAPER, Ephraim, Utah"  (With "Ephraim" showing rather a light impression) on the front side and an etched mark reading, "S. R. Johnson, Manti, Utah," on the back. The blade was made, by me, in the Draper Knife Shop in Ephraim, and then stored with other unfinished blades for many years until I decided to finish it and take it to the Solvang Knife Show.  The blade is made from 440-C steel and is approximately 3/16" thick.  When I decided to complete the knife I had to make and solder the guard and assemble the handle, using a piece of rosewood that had been in my shop for many years.  It resembles the handle design known as the "Johnson, Bird's-head" handle.
I took the Cougar to the Solvang Knife Show and near the end of the last day a collector asked me what I wanted for it.  I felt that $2000 would be fair, especially with the double logos, and told him, "Two."  He then said, "Sold!" Much to my dismay, he sent me $200.00 about two week's later.  I thought he was kidding, as my cheapest knife at that time was much more than $200.00 and he knew it!  I immediately attempted, in many ways, to contact him to correct this misunderstanding. I then saw the knife for sale on a purveyor's web site a few month's later at a price of $15-1800.00.  He never answered me, nor has he to this day.  I have since written this little episode off, but maybe not, really, since I still get upset when I think of it!  It was my fault, I know.  Anyway, that's the story of the little Caper.  I am very pleased that it is now in your hands and will be well taken care of.
Sincerely,
Steven R. Johnson 
Notice "RED" spacer between nickel silver guard and handle.  R. W. Loveless influence.
The H. E. Draper, Ephraim, Utah blade stamp on opposite side. 
Custom Skinner:  4 3/4" Blade from 3/16" 440c, 8 3/4" OAL.  Handle material is Osage Orange wood. S. R. Johnson produced this knife in 1968 while working at the Draper shop.  Harvey or Bart (Draper) shaped the butt-cap.
One-Of-A-Kind Skinner by S. R. Johnson.
Thumbrest file work on the S. R. Johnson Custom Skinner.  Immaculate knife.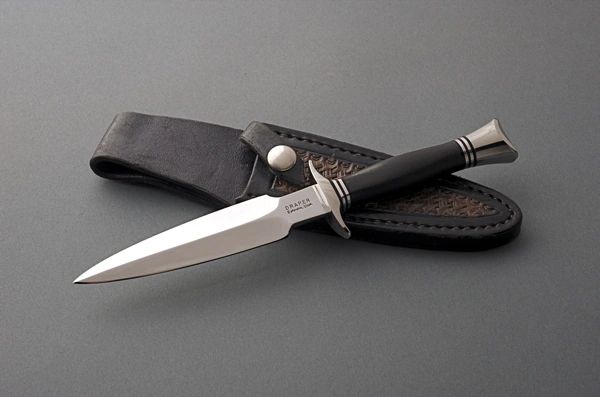 Custom Dagger with 5" blade; 9" OAL from 3/16" 440c stock.  Ebony Handle and Stainless Fittings.
Custom Boot Dagger with Fred Nielson Sheath.  Stacked leather handle, stainless fittings.  Blade is 1/4" 440c and measures 4 1/2" long.
Custom Boot Dagger close-up view.
   Both Daggers photographed together.
Push Dagger, ivory handle with two tone sheath and wood handled one with black sheath.
Model No. 20 SURVIVAL:  8" Blade from 3/8" 440C.  Leather stacked handle, aluminum, black and red micarta spacers, brass saucer quillon hilt and pommel.  Kent Draper sheath.  Exceptional.
Incredible attention to detail.  Tasteful flair where art and utility merge.
Model No. 20 SURVIVAL:  9" Blade from 1/4" 440-C.
Model No. 12 COMBAT with 9" blade and stag handle.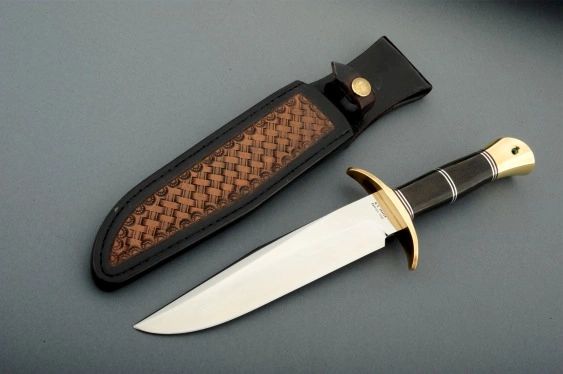 Model No. 12 Combat 9" Blade.  Micarta handle.
Draper Bowie Model No. 22:  Blade 9" from 3/8" stock. Leather stacked handle with brass & aluminum spacers.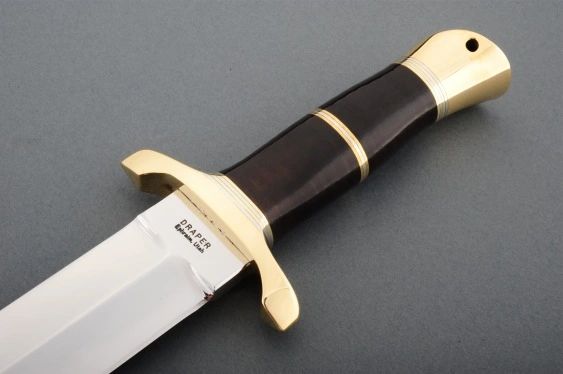 "We feel metals and leather imparts a richness to the knife that cannot be duplicated by synthetics."  As stated in their own words in the Draper Custom Knives catalog.
With a 10" blade of 3/8" 440-C this is one impressive knife.  The stainless fittings compliment the leather stacked handle.  The original sheath is fitting.
Here it is compared to a Cougar.
Arkansas Toothpick Model No. 21:  9" Blade from 3/8" stock 440c.  Stacked leather handle with German Silver.  Exact knife pictured in vintage catalog, see below.
Closeup of German silver inlay for engraving.  The catalog specifies this option in wood handles only.
Exact same model knife with different spacers, no silver inlay but a really nice swivel sheath by Nielson.  Bowers C W, spray painted and stenciled for military.
Knife in sheath No. 2 is same knife in above photos (the one with silver inlay).
Close-up of knife in catalog.  First knife (1) is same knife on cover of catalog.
Technical drawing explaining a little bit about knife design.